...to look like a celebrity!
Happy Friday..and hello Sweet November!
Can you believe it's Friday? Actually, I can but to me it feels like a Sunday! It's funny that it's only now that I am losing track of days when in fact, school is already starting on Wednesday! Isn't it funny that it's during the last days of vacation do you actually start to enjoy the vacay?
Anyway, this outfit seems like something I'd wear to the beach or to a casual day out, don't you agree? I guess it's my subconscious telling me to either make the most of my vacation or "Noooo, I don't want to go back to school anymoooore". I wore this awhile ago to a little bonding session with my cousins. They watched Mario Maurer's movie while my sister and I sang our lungs out at Timezone. :)) After their movie, we played some arcade games.
Sorry for the crappy photos. My sister had to photograph me indoors because the sun set so early!
top: Human
shorts and shoes: SM
bag: H&M
fedora: bazaar at Bahay ng Alumni
I needed to step out for a bit because I had to write a couple of articles on trends (watch out for that and where), so imagine the intense research and blog-hopping I had to do to get material and inspiration! Until now, my head's still spinning with runway photos and the like. Speaking of which, here's some inspiration of my outfit: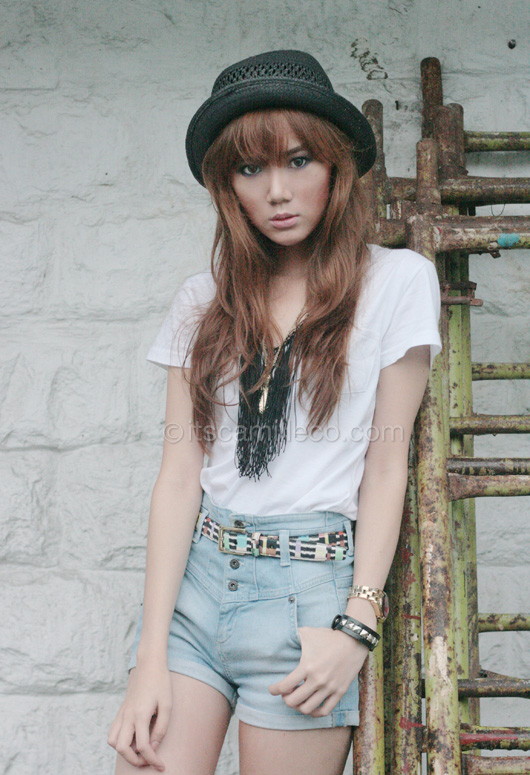 from itscamilleco.com
When I Googled "fedora white shirt shorts" I was shocked to find that Camille Co had actually worn a similar outfit! Look at the necklace! Amazing, right?
And imagine my shock as well when I saw this photo of Zac Efron in a plain white tee and fedora. Couple outfit, maybe? =))
Anyway, I am off to relax and watch Revenge and Vampire Diaries! :))
Hope you're having a good Friday!
xx